Today, commercial real estate data providers give CRE pros decision-making power like never before. The amount of information available in just a few clicks is truly astounding. While the cloud makes it easy to access the data, the real power is in the information curated by these CRE data providers.
For example, CompStak offers access to over 4 million comps and over 1.7 million properties. But it's not just the huge data volume that makes commercial real estate data providers so valuable. Powerful algorithms enable highly detailed and versatile CRE data analytics. This helps professionals make better decisions and provide a higher level of service.
Commercial real estate data providers enhance CRE business through:
Rapid access to find new opportunities, locate prime deals, enhance strategic growth, and boost visibility.
Detailed insight into asset, portfolio, market, and economic conditions to guide decision-making and improve forecasting.
Improved ability to mark properties to market and enhance overall market knowledge.
Evaluating Commercial Real Estate Data Providers
When evaluating CRE data providers, it's important to look at both the quantity and quality of the data. Some key questions to ask include:
Where does the CRE data come from?
How is the CRE data verified? How many levels of data verification are used?
What level of CRE data granularity is provided?
Is data science used in the evaluation?
Let's take a look at some of the leading data providers in the CRE space.
Top 9 Commercial Real Estate (CRE) Data Providers
For example, CompStak offers access to over 4 million comps and over 1.7 million properties. But it's not just the huge data volume that makes commercial real estate data providers so valuable. Powerful algorithms enable highly detailed and versatile CRE data analytics. This helps professionals make better decisions and provide a higher level of service.
1. Compstak
2. CoStar
3. Cherre
4. REIS
5. Crexi
6. Reonomy
7. Property Shark
8. LoopNet
9. Brevitas
1. CompStak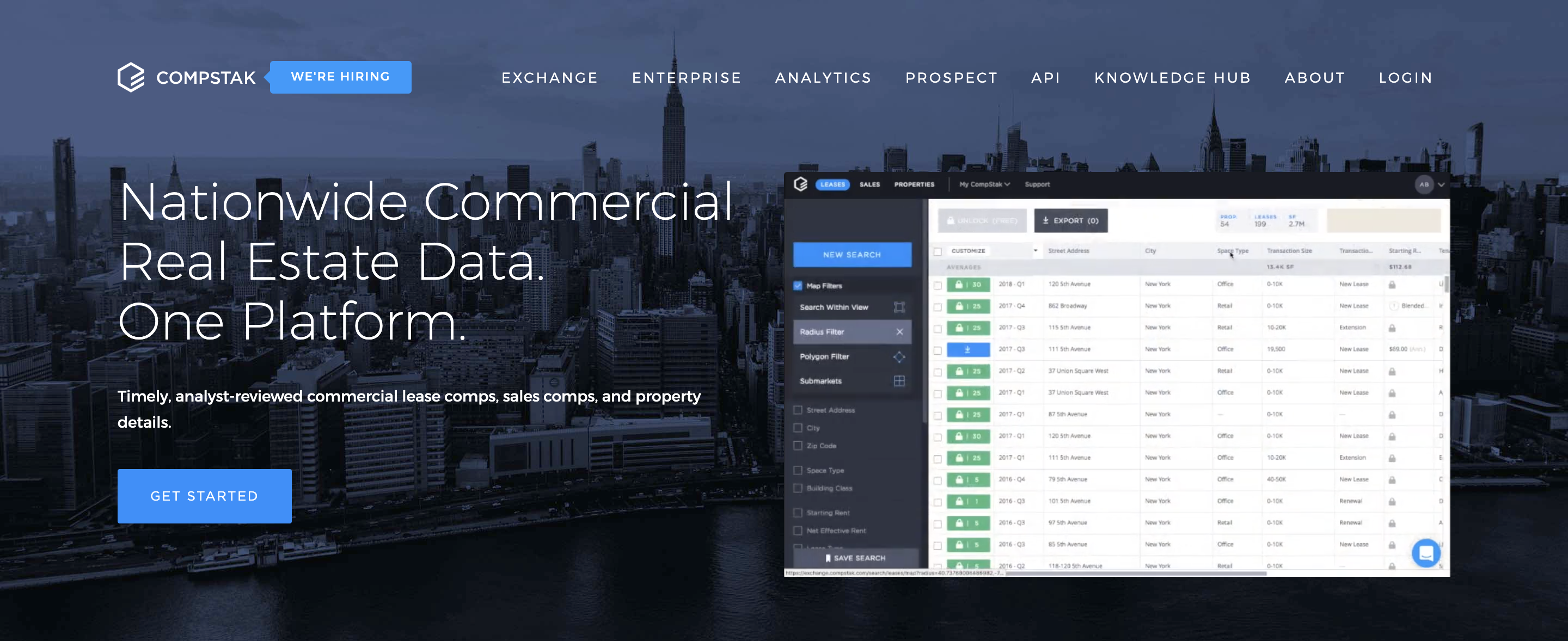 CompStak is a leading crowdsourced US commercial real estate data provider. The platform gives users access to a massive lease and sale comparable database. CompStak curates data from thousands of CRE professionals at leading brokerages and appraisal firms. The platform's tools include powerful analytics to extract the full value of the data.
One key advantage to CompStak is data reliability. An entire team of data scientists and researchers ensures that CompStak comps data has the highest level of integrity. For example, if the data looks suspicious or inaccurate, the comp is corrected or the data removed. Additionally, users get an incentive in the form of credits to update and correct comp data. This accuracy makes all the difference when marking assets to market.
As a CRE data provider, CompStak offers highly advanced analytic capabilities, such as:
Ability to drill down into 80+ comp details
Data on hard to find comps
Advanced, customizable real estate market intelligence (market trends, custom data sets, and nationwide market comparisons)
Targeting lease agreements due to expire soon
The value CompStak brings to the CRE industry is also shown in how other commercial real estate data providers incorporate CompStak data. For example, both Cherre and Trepp integrate CompStak's lease and sales comps into their platforms.
CompStak also provides WiredScores to measure a building's connectivity quality. When it comes to data volume, accuracy, diversity, and analytic insight, CompStak performs at the highest level in every area.
2. CoStar

CoStar is one of the largest and most recognized real estate data providers in the United States. The huge CoStar database includes sale and lease comps, listings, vacancies, rents, tenants, ownership, trends, and in-depth market reports. CoStar provides access to 390 markets and over 2,700 submarkets with analytics to forecast supply and demand, asset pricing, and market trends.
CoStar custom analytics provides specific commercial property data sets such as geography, building class, vacancy, absorption, and sales information. Additionally, this CRE data provider enables professionals to identify emerging markets and capital flows.
3. Cherre

Cherre enables brokers and managers to integrate data from multiple CRE data sources and organize it all under one roof. This holistic view of portfolios includes useful filters according to fund, geography, asset class, and more. With Cherre you can quickly create reports, monitor benchmarks, track, and optimize CRE business performance.
The Cherre CoreConnect tool lets users easily tap into third-party and internal real estate data pipelines. The tool enables seamless organization and control over CRE data such as:
Property characteristics
Valuations
Tax and assessments
Recorder and deeds
Lien and mortgages
Community and demographics
Boundaries
Points of interest
The Cherre CoreExplore tool provides visibility into asset performance and market benchmarks for improved, data-driven acquisitions and asset management decisions. Users also get insight into off-market deals, owner identities, research portfolios, and key-value drivers across different sectors and geographies.
Cherre's Connections Network provides connections to high-quality data vendors. This helps teams to identify more opportunities, build new and better models, and attract more capital.
4. Moody's Analytics | CRE (formerly Reis)

Moody's acquired Reis in 2018 and the new product is called Moody's Analytics | CRE. Moody's/Reis is one of the largest commercial real estate data providers in the United States. Through its proprietary data and advanced analytics, Moody's helps investors and brokers gain insight into all the major US commercial real estate markets.
The platform describes its CRE data sources as:
Transparent – Includes validated property data including structural, performance, transactional, tenant, and new build information.
Analytic – Provides over 10 years of historical trend analysis and forecasting including perspectives from various economic scenarios.
Workflow Tools – Technology, analytics, and automation help improve credit decision and impairment analysis.
Users of Reis appreciate the ability to look at real estate data at the property, submarket, and market-level, which is especially useful when underwriting a property. Plus, the platform helps simplify and standardize the way you collect, analyze, and store credit data. Moody's proprietary database of searchable markets offers real-time reporting that you can integrate with your own data.
5. CREXI

CREXi is a commercial real estate data provider that brings CRE transactions fully online from listing to closing. Recently, CREXi announced the launch of Intelligence, its comprehensive database subscription. This tool provides access to map overlays where population, median income, traffic counts, and points of interest can be layered on top of listings and comps for deeper insights.
CREXi provides market report data on over 50 major US metropolitan areas. Each report provides details about:
Market demographics
Economic metrics
Transportation
Individual county data
Properties for sale & features properties
6. Reonomy

Reonomy is a large CRE data provider that leverages AI and machine learning to locate property opportunities. By compiling data from basic property leasing and owner identification, Reonomy helps evaluate deals and market potential. With access to a large database, the platform's marketplace analytics helps brokers streamline their property research.
Gathering data from a wide range of resources, Reonomy can display up to 100 data points for any given asset, such as renovation details, sales history, debt history, opportunity zone status, tax history, and comps.
7. PropertyShark

PropertyShark is a commercial real estate data provider for US commercial and residential properties. The site does not strictly cater to CRE professionals as investors and home buyers also use PropertyShark.
The PropertyShark CRE data includes:
Researched phone numbers for Real Owners behind LLCs
Mobile numbers for individual owners with People Search
Recorded owner names and contact details
Owner name and contact details
Foreclosures
Property characteristics
Property value
FAR
Zoning
Sales history
Title documents
PropertyShark provides data on at least 25 major metropolitan markets.
8. LoopNet

LoopNet is one of the most recognized commercial real estate data providers worldwide. LoopNet works by connecting tenants, brokers, and investors to commercial real estate available for sale and lease. The site has massive traffic with 1.1 million advertised properties listings and over 10 million monthly site visitors.
The high listings visibility provided by LoopNet is its huge advantage. For anyone buying or selling a commercial property, LoopNet provides all the relevant information, such as price, location, square footage, agent contact information, and property photos. This CRE data provider's reporting also gives insight into who might be interested in a particular listing or property.LoopNet has a huge database, high visibility, and the locator tool is very user-friendly.
9. Brevitas

Brevitas is a premium online commercial real estate provider which includes private, open, and off-market listings. Brevitas caters to investments and sales of multifamily, retail, office, industrial, development, hotel, and multi-use properties. The company is a global brand with listings in over 55 countries and users in over 80 countries.
Advanced machine learning helps connect Brevitas users with opportunities that align with investor objectives. On the sales side, a comprehensive toolbox is available, including email templates, reporting/analytics, marketing automation, website design, and in-house workflow tools.
Brevitas matches opportunities to pre-vetted, high-end investors, and the data algorithms boost accuracy and speed. By taking into account your profile, the Smart Connections tool connects you with relevant brokers for network building.
These are just some of the leading companies that provide commercial real estate data. Consider these data sources when your business is looking to grow and make critical decisions with accurate, real-time data.
Related Posts
LoopNet Alternatives For CRE Brokers and Appraisers
LoopNet Alternatives For CRE Brokers and Appraisers
CRE data analytics and visualization tool: Discover new opportunities
CRE data analytics and visualization tool: Discover new opportunities
The Importance of Transparency When Sharing Data: Podcast Recap
The Importance of Transparency When Sharing Data: Podcast Recap